NIJMEGEN A TIMELAPSE FILM
Duration in realtime: 29h 19m
Displayed photos: 9071
My first timelapse film takes place in, about and around the Dutch city Nijmegen. Through my study I came to this nice small city near the German border. Nijmegen is not only a great place to study, it has also many wonderful places to offer! In my timelapse film I try to catch all the nice places of Nijmegen, try to show a side of Nijmegen that even the inhabitants do not see. I shot the film between March and June 2015.
Equipment:
Samsung NX30
Samsung NX300M
– with 18-55mm f3.5-5.6
UV Filter
CPL Filter
3 Tripods
Intervalometer
Hot tea
Handwarmers!
Lightroom 5
Fireworks
L R Timelapse
Adobe Premiere
& A lot of time and effort made this possible
Music
Thanks for Evan & Cody for giving me the permission to use their great song! You can find them here
Pillow Talk by The Analog Affair | soundcloud.com/theanalogaffair
Upload & Rendering:
Resolution: 4096 x 2304 Full 4K
Framerate: 30 (except the stars, they have an fps of 18) – progressive
Bitrate: 80 Mbps
Challenges:
The Locations & Storyboard
A big challenge was the selection of the locations. I had many locations in my mind and after I took a few timelapses I noticed very early that I have to write a scriptbook. Or at least a list of all the places I want to go. Fortunately I learned quite early that Radboud University didn't want to be included, so I had to replan my location list.
Very often I scouted the location and the area a couple of days ahead, making test pictures. This is essential, to e.g. determine the right camera angle, movement of the sun or traffic. It happened also that I had to create the same timelapse at the same spot again, because I missed a single detail which disturbed the timelapse. Those details were technical (wrong camera settings) or enviromental. Two times I had fog on the lens, a tripod that was standing on a beach and with each wave it was sinking deeper and deeper and street signs or posts which were suddenly more disturbing than I thought.
The cold weather was also a challenge: it drains the battery, once an empty battery ended a timelapse about 40 minutes too early. The sequence still went into the film: it is the very last sequence!
During all the recordings I never left the camera, so yes I stood there for 2-3 hours next to the camera playing with my smartphone or reading (a photography book of course!). Together with hot tea and a bunch of handwarmers.
When I finished, I printed all the scenes as small photos, so that I had it easier to create the storyboard. I had to rearrange it to make it fitting with the music. I don't want to know how many hours I spend on that!
All in all I had about 800GB of timelapse material on my hard-drive: that includes 50h 03min real-time duration recording, and 16709 pictures.
Weather:
The biggest challenge is the weather. The layman would only think: rain is bad. But there is more:
Timelapses & Weather conditions
Pure blue sky: boring
Sky filled 100% with clouds: bad
Cloud layers on cloud layers: bad
Smaller clouds with blue sky behind: perfect!
Especially for transition timelapses it's difficult: In the beginning over the day there are clouds and as soon as the sun is under the horizon the clouds go away. Clear sky. Boring – you cannot really see that time passes.
So have a look on the weather forecasts: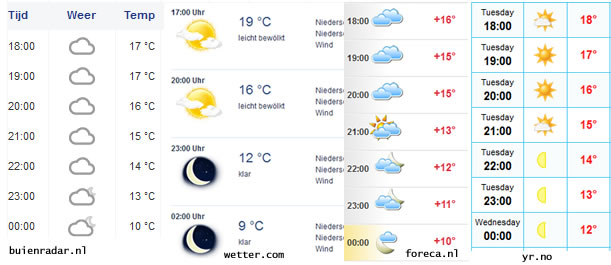 The Campus Security & Why no University in the timelapse…:
Early in the beginning I noticed that the Radboud University did not want to be included in my timelapse: The Campus Security made me leave the campus, because I was bothering people with my camera. They explained me in general that nobody is allowed to take pictures without permission (but still everybody takes "selfies" there). Since this is a public space I still do not see why I'm not allowed to take pictures, but your choice Radboud!
Music:
Choosing the right music for my upcoming timelapse film was a tough choice. I spent many hours, even days hunting for some nice music. It's easy to take music which is played on the radio all day long or soundtracks from movies, but due to copyright issues my film would be immediately blocked on youtube. So the song or music must be published under the Creative Commons licence to avoid that.
I checked many artists on soundcloud or jamendo, but not finding the right type of music to show different scenes for my timelapse. The music should be usable while you see clouds, cars and even stars moving! If you have some special kind of music which I should use for my next timelapse, let me know!!
I was very happy when Evan & Cody from "The Analog Affair" gave me the permission, to use two of their songs "Pillow Talk" and "Dream".
You can find "The Analog Affair" here: https://soundcloud.com/theanalogaffair
All locations shown in the Timelapse
Waalbrug Sunrise
Graafsebrug
Molenstraat
Snelbinderbrug Cyclists
Clouds 1 (Palkerplein)
CS Perron 4
Rail Ways
Tunnelweg
CS Busstops
Waal-Constructionside
Nijmegen-Sunset (near De witte Molen)
Waterdrops (Near Keizer Karelplein)
Nijmegen Skyline -Sunrise
Grote-Markt (Burchtstraat)
Waal-construction site
Sakuras (Dorpspark Hees)
Valkhofpark
Waalbrug (on the bridge)
Waal-constructionside (the one with the people)
Joris-Ivensplein (from Snelbinderbrug)
Stars (Kranenburg)
CS Train Depot
De Witte Molen / Looimolen
Sun behind clouds (goffert)
Keizer Karelplein Fontain (ON a roundabout)
Marikenstraat / Marienburg / Koningsstraat
NXP / Regus Building
Waalbeach
Waal beach Sunset
---